Brief historical overview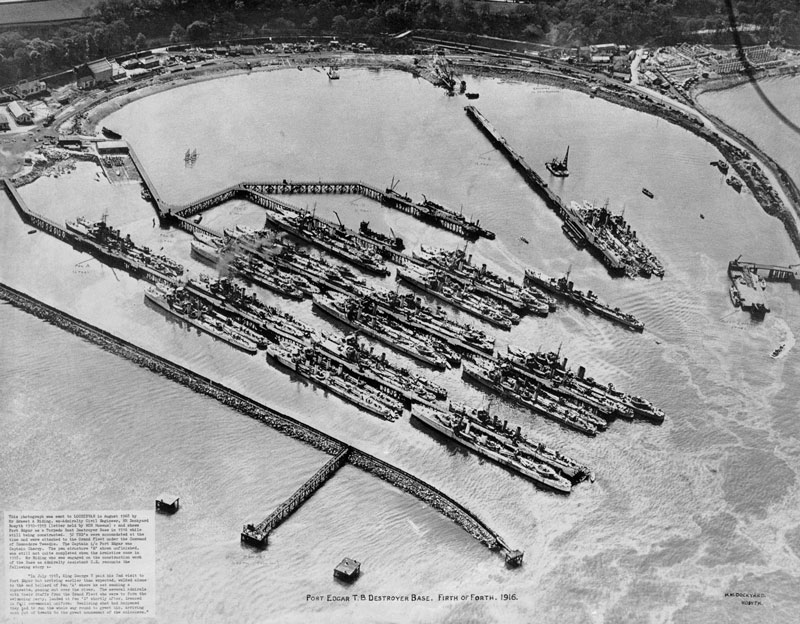 Destroyers berthed at Port Edgar, 1917
In 1810 a pier was erected at Port Edgar and it started operating as a fishing and ferry harbour. King George IV embarked at the harbour in 1822 on a visit to the Earl of Hopetoun.
The Admiralty acquired Port Edgar in 1916 and commissioned it as HMS Columbine, establishing it as a base for destroyers. This closed in 1928 and the site buildings were temporarily used as a holiday camp during the 1930s for families of the unemployed from Edinburgh and Glasgow.
With the advent of World War II, the Royal Navy returned to Port Edgar in 1939, commissioning it as HMS Lochinvar - a facility for minesweeping. In preparation for D-Day, a combined operations training centre was established in 1943 to prepare landing craft and their crews. After the war it continued as a minesweeping training centre, hosting various mine warfare vessels and carrying out testing of the latest minesweeping equipment until its closure in 1975.
In 1978 Port Edgar was acquired by the former Lothian Regional Council which developed the site into a marina and sailing school.
---
Development in the 1800s
The advent of turnpike roads from Perth to North Queensferry, and from Edinburgh to South Queensferry, led the Government in the 1800s to task Civil Engineer John Rennie to upgrade the piers and landing places at both North and South Queensferry. Despite its logistical importance the ferry services linking the two towns were often poorly run. A new Act of Parliament changed this by placing the running of the ferry into the hands of a group of trustees.
In 1869 the North British Railway obtained the title deed to build a railhead at Port Edgar which included the power to construct and operate a direct rail / ferry crossing between it and North Queensferry. Nearly ten years later, in 1878, this service began.
In 1890 the Forth Rail Bridge was opened which had the immediate effect of making the rail/ferry crossing redundant.
---
A Navy base
Port Edgar has a long history as a naval base, beginning in 1891 when HMS Caledonia, a training ship for Scotland, came to be based here and remained for the following 15 years. In 1906 her serviceable life came to an end and HMS Caledonia was sold for scrap and towed away.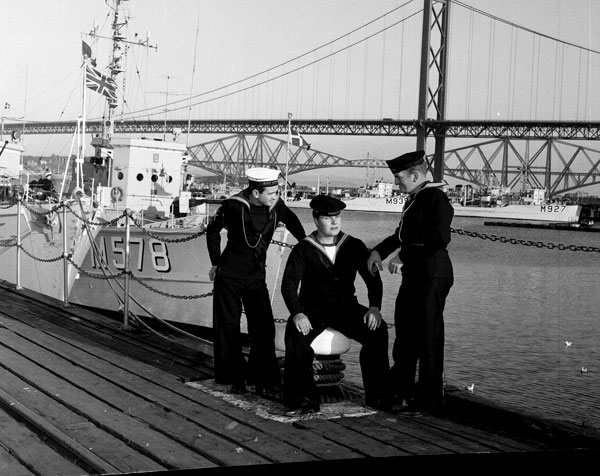 Visiting Danish sailors, 1962
In 1909 work began on the construction of the Rosyth Naval Base on the north of the Firth and this was to have a significant impact on Port Edgar. In 1916 the Admiralty took steps to acquire Port Edgar to create a Torpedo Boat Destroyer Depot which could provide berthing and support for up to 52 destroyers. Complementary developments took place on shore including the creation of barracks, workshops, storehouses, a power generating station and recreation facilities. An oil fuel depot was also built.
In 1917 this new destroyer base was officially named HMS Columbine. In 1918 the entire Grand Fleet was transferred from Scapa Flow to the Firth of Forth making Port Edgar a very busy place. Throughout the early and mid-1920s HMS Columbine flourished as the Atlantic Fleet's destroyer base but in 1926 the destroyers' spent only 14 weeks at the base and by 1927 it was being used even less often. The Admiralty decided to close the base in 1928, running operations down to just a care and maintenance basis and keeping the oil fuel depot and oiling jetty in service.
Port Edgar came back to life in 1938 when the former destroyer barracks were made into a 200 bed hospital. During the war years there was an average of 4,000 admissions per year.  With World War II looming, it was announced in 1939 that Port Edgar would re-open as a naval training centre, specifically for mine-sweeping and trawler training and it became HMS Lochinvar. During the war years 13,000 men and 4,000 officers were trained in mine-sweeping skills at Port Edgar and nearby Granton. In 1943 Port Edgar became a Combined Operations Training Centre in preparation for D-Day and became full of landing craft and their crews.
After the war, Port Edgar's future was uncertain but in 1946 it became a Torpedo Anti-Submarine School and it continued mine-sweeping training. During the 1950s the port hosted various mine warfare vessels and carried out testing of the latest minesweeping equipment. In 1960 it became responsible for all Mine Counter Measures training and continued to be focused on this area of work for the next decade but it was clear by the late 1960s that Port Edgar's days as a naval base were numbered. It closed in 1975.
Development of the marina
In 1978 Lothian Regional Council bought the site and created a marina and sailing school. The marina was developed to offer 300 berths, and a watersports centre was also established. Edinburgh Leisure, on behalf of the City of Edinburgh Council operated the facilities until 2014 when the site was acquired by Port Edgar Holdings Ltd.