Berthing Charges
Minimum chargeable length is 6.1m
1ST APRIL 2023 – 31ST MARCH 2024
Annual Berthing
Annual Berthing (per metre)
£358.20
Multihull (per metre)
£477.75
Seasonal Berthing
6 Month Pontoon (1 April 2023 – 30 Sept 2023) per metre
£227.35
Multihull (per metre)
£303.20
6 Month Pontoon (1 October 2023 – 31 March 2024) per metre
£164.35
Multihull per metre
£218.95
Short Term Berthing
Monthly Pontoon (April – September) per metre per month
£40.70
Monthly Pontoon (October – March) per metre per month
£32.00
Weekly Pontoon per metre per week
£18.40
Daily Pontoon per metre per day
£3.70
Drying out Berth per 24 hrs
£47.25
Boat Park Storage
Monthly Boat Park per metre per month
£22.60
6 Month Boat Park per metre
£116.80
Weekly Boat Park per metre per week
£7.35
Boat Handling
Small under 7.6m
Lift out inc pressure wash per metre
£25.20
Launch per metre
£17.35
Medium 7.6m to 9.4m
Lift out inc pressure wash per metre
£27.85
Launch per metre
£20.50
Large 9.5m and over
Lift out inc pressure wash per metre
£32.80
Launch per metre
£22.85
Use of Slip
Craft under 6.1m (In and out)
£15.75
Craft over 6.1m (In and out)
£22.05
Sailing dinghies and Canoes
FOC
Use of Dinghy Park & Slip
Annual Dinghy Park
£315.00
6 Month Dinghy Park
£173.25
Monthly Dinghy Park
£42.00
Mast
Small under 7.6 metres
£137.55
Medium 7.6m – 9.4m
£180.10
Large 9.5 and over

£222.60
*Mast to be prepared per Marina guidelines
Cradle Hire
Small under 7.6m per week
£10.50
Medium 7.6m – 9.4m per week
£15.75
Large 9.5 m and over per week
£21.00
Miscellaneous
Tow in Harbour
£52.50
Diesel
See office for current prices
Impound Release Fee
£225.75
Labour charge (per hour)
£60.40
Cradle Storage (per month)
£28.90
Wash/Dry ( Includes 2 dryer tokens)
£6.80
Electricity
See office for
current prices
For customers wishing to stay on site all year round, the most cost effective type of contract is an 'annual berth', which includes one launch within the contract dates. Please note that leaving during the contract term will still incur the appropriate monthly charges for the period of the contract.
Customers are advised to contact the Marina Office to confirm all prices and charges. VAT is charged at the standard rate. Please note that all fees are due in advance.
Download Leisure Craft Berthing Application Form - 1 April 2023 to 31 March 2024
Download Dinghy Application Form - 1 April 2023 to 31 March 2024
Please submit your application in time for renewal dates and pay the fees within the time limit specified.
Please ensure you fully understand the terms and conditions of your contract. A hard copy of the terms and conditions is on display in the Marina office. Read our terms and conditions.
---
As a berth holder at Port Edgar Marina you will enjoy:
Discounted fuel prices
Free storage for your own boat's cradle or road trailer
Free use of the drying out berth (24 hours per annum)
Free WiFi throughout the marina
Discounted prices on selected resale items from the chandlery
Ask for details in the Marina office or contact us on: 0131 331 3330 or info@portedgar.co.uk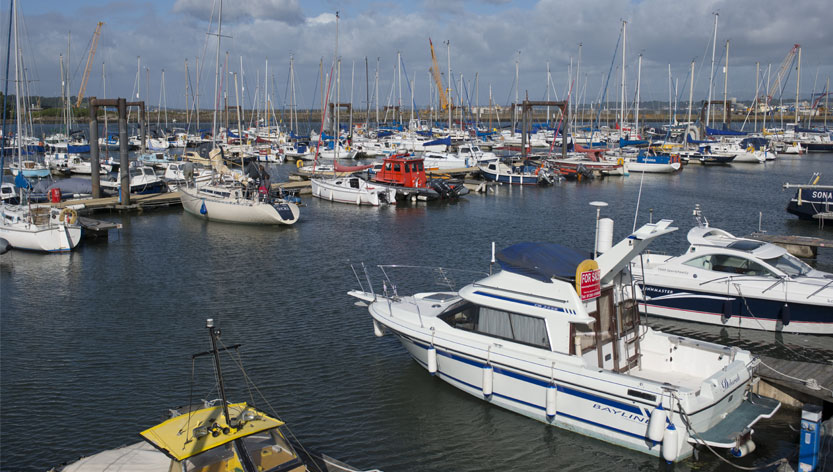 Commercial Berthing
The marina can offer berthing to small commercial vessels on an annual, seasonal or short term basis.
We currently provide pontoon berthing for a range of commercial craft from pilot boats to passenger transfer and safety boats. These vessels are operated by a wide variety of organisations, from boat tour operators to Police Scotland.
Commercial vessels up to 25 tonnes can take advantage of our lift out facilities, and it's possible for larger vessels to dry out on the slipway.
We have installed a 20,000 litre marine diesel tank with a customer accessed, high flow dispensing facility for commercial operators.